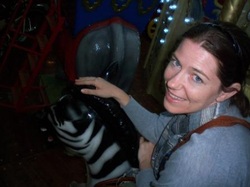 It's a new year and a new me. It's about letting go of the past and embracing the future. All of it. I'll let you in on a dirty little secret. I had been hesitating of letting go of my ex completely. The very last tie I had to him was Facebook, but he was hardly ever on and seeing his picture brought up both the good and the bad, and our fantastic memories were just that. Fantastic. He made it hard for me to completely hate him because he wasn't all bad. One Christmas he wrote me twelve, count them, twelve different cards with sayings from my favorite authors and words of encouragement to keep on going and write my ass off. To keep reaching for the stars. My gift from him after reading those cards, which also gave me tears of joy? A shooting star necklace, which I still wear from time-to-time. He just had his asshole moments, but what person doesn't? And that thought of the good times, like the shooting star necklace, are what kept me holding on. Maybe one day he'd turn around. Maybe one day I'd get my Cinderella moment. Maybe one day he'd come back to me and tell me he was wrong and I was the one for him and that he suddenly liked travelling and wanted family and kids, but I kept holding my breath ( I find myself doing that often) and nothing came. Not even by horse drawn buggy.
My roommate, in her infinite wisdom, said, "just let go and unfriend him. Do you talk anymore?" I had to really think about it for a second. She hadn't been the first person to ask, nor was it the first time she had asked me that question, but this is the first time I was even seriously contemplating what she was asking of me. I had tried contacting him in the past, but it had been a long time. "Well, no. We don't. Last time I spoke to him was last Christmas and that went well (insert sarcasm here)."
Thinking about him both makes me happy and brings tears to my eyes. But letting go of him on Facebook, unfriending him, it meant that it was really over and that the last eight, almost nine years, were gone, and I truly had to start over again, and that scares me a little (okay, a lot!). No lost hope. No what if's. Letting go meant it was done for good.
The truth of the matter is I think he had let go since 2010. I believe I had limited access to his profile. Though I couldn't be certain because he wasn't one for social media either. But I held on tight because the last half of our relationship we were on a break and then back together again so in my mind I think I wanted it to be the longest break we had, but someday it would be better again. His family loved me and I loved them, and I loved him, but I knew I wasn't in love with him anymore, and yet I wanted to wake up and have the perfect life. The kids, the doting husband, the white picket fence, the whole nine yards.
But that's not the case. I wake up in an apartment. Granted a fabulous one. Two bed, two bath. Walking distance to everything and amazing neighbors and a roommate I can also proudly call my sister, but it's not where I pictured myself at 32, and that has been the harsh realization that I needed to wake up to. Life isn't perfect and it doesn't always go according to plan, but sometimes if we hang on longer, it's better than we ever imagined. I have an amazing job and love all my authors. I love what they bring to the table. I love how strong this job and my authors make me. I love how strong I've become with everything that's happened to me in the past. I love that I can dream past what dreams I had back in the early part of 2002 to about 2010 and I dreamt big. I helped amazing people like
Scarlett Williams
and
Hilary Rowland
with their dreams, and now I'm big on chasing my own dreams and thinking big so as I sit here typing I have to consult our trusty magic eight ball. Yes, we have one…
"Magic Eight ball, will 2014 be my year?"
"Without a Doubt."
I smile. It did it's job. It made me happy.
Okay, one more question, "Will I find true love again?"
"Concentrate and ask again."
You have to love the wisdom of the Magic Eight ball. I'm sure it wants me to be specific. Concentrating and asking again, "Will I find true love in 2014?"
"Cannot predict now."
I should be upset at the Magic Eight ball for that response, but life is unpredictable so I'm going with the flow. I have my big girl panties on and I'm ready for whatever comes my way. So, world, bring it. I'm ready for you. The question is, are you ready for me? Are you ready for all of us, universe?